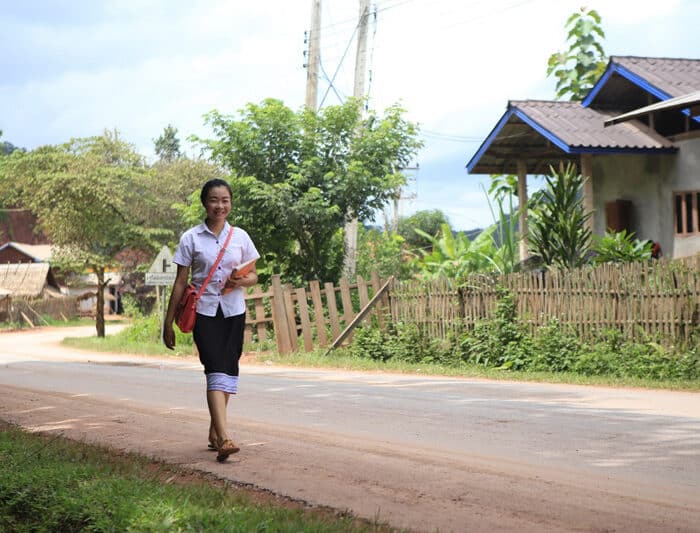 Raven Supply has set a goal this year to fundraise $20,000 to provide girls in Laos with scholarships. Through the global education non-profit Room to Read, the funds will support and mentor 50 girls in country to stay in school.
We chose to benefit the country of Laos based on their considerable needs. Although primary and secondary schools in Laos are free and literary rates are rising, many schools lack appropriate reading materials, quality classrooms and have limited training for teachers.
Laos is a relatively small nation with the youngest population of any country in Asia; half the population is under the age of 18 years. Furthermore, 64% live in rural areas where poverty is concentrated and schools are difficult to reach, with many children having to walk long distances to attend class. Schools in these areas may lack infrastructure such as roads, electricity and sanitation.
It is also an immensely diverse country, with an estimated 237 ethnic groups and over 80 languages spoken. Children of ethnic minority groups who do not speak Lao at home face a language barrier in the classroom and can struggle to stay in school, especially those living in rural areas.
Girls are at a higher risk of not finishing their education. They can experience pressure to marry early or to help with household duties rather than attend school. Nine percent of girls are married before the age of 15 and 35% before the age of 18. In the population over the age of 15, the literacy rate for women and girls is 10% lower than their male counterparts.
Room to Read works with the Laotian government to improve infrastructure, provide access to quality learning materials and support students in underserved communities who are at the greatest risk of dropping out of school. More than 600,000 children in country to date have benefited from their Literacy and Girls' Education Programs.
Despite ongoing health outbreaks and intermittent school closures during the pandemic, they continue to support students in their Girls' Education Program. In 2020, over 5,000 individual remote mentoring sessions were delivered, and over 470 girls received direct messages in support of their education goals. By the end of the year, 96.5% of program participants had returned to school.
In 2021, they provided individual and group mentorship through both online sessions and at home visits. Through these efforts, Room to Read learned that many Girls' Education Program participants experience risk factors for not returning to school, including poverty, pressure to perform paid labour and pressure to pursue marriage.
Raven Supply is aspiring to provide 50 girls in Laos with the opportunity to complete their secondary education. We know that girls who complete secondary school are more likely to have smaller and healthier families, earn more income and educate their children—thereby ending the cycle of poverty.
Since 2013, Raven Supply has been a proud supporter of Room to Read. We do this with the generous help of our friends and vendors; for every discount that we receive from a vendor, we match it dollar to dollar in a donation. We also match donations made by our customers. Over the years, we have contributed over $250,000 to fund education projects across several developing countries. You can learn more about our work with Room to Read here.